Amazon has become a huge threat to big-box stores in recent years, but those retailers may be making a comeback this Cyber Monday.
Packages move along a conveyor belt inside a Wal-Mart Stores Inc. fulfillment center in Bethlehem, Pennsylvania.
Michael Nagle | Bloomberg | Getty Images
Walmart and Target had bigger jumps than Amazon in online customer spending during the first two weeks of November compared with the same period last year, according research firm Edison Trends, which looked at more than 1.2 million transactions.
Walmart took in 51% more than last year, while Target followed close behind with a 47% increase. Amazon's customer spending grew just 32%.
close dialog ALL NEW TONIGHT 10P ET WATCH NOW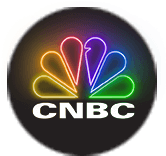 As retailers battle for market share, they are investing in their e-commerce options, and integrating them with brick-and-mortar stores. This includes adding more products to their online shops, offering in-store pick up for items purchased online and direct shipping from stores to customers' houses, according to Nomura Instinet analyst Michael Baker. These companies are also investing in the infrastructure of their websites to allow them to handle big shopping days like Cyber Monday.
"Retailers have gone from being in denial about the potential threat of e-commerce to accepting that e-commerce is a real threat and investing to take advantage of the omnichannel asset," Baker said.
LIVE, NEWS-MAKING DISCUSSIONS
UNIQUE, IN-PERSON EXPERIENCES

They're realizing that they can compete with Amazon to win back market share, he added.
There is a lot of competing to be done. Amazon sees more users start with its site when online shopping than on any other site, including Google, according to a recent report by Bain & Co.
The gap that Amazon had as an advantage over other retailers is starting to close.
Monisha De La Rocha
BAIN
Amazon tends to gobble up the market with big gains during the holiday season. Last year, the company picked up about 2 points of market share in the second half of 2018. The tech giant has implemented a strategy of offering a wide assortment of products at low prices, while focusing on aspects of customer experience that are necessary for buying gifts, like recommendations, fast shipping and easy returns, the report said.
In the past, Amazon also has tried to stay top-of-mind by making attention-grabbing announcements during the holiday season, like those of a minimum wage increase for all employees and the locations of its new headquarters, which the company made at the end of last year.
But this year may be different. Amazon's Net Promoter Score, which measures the likelihood of a customer to recommend a store or brand, has slipped in six of nine categories since 2017, according to research from Bain and ROI Rocke. The categories are consumer electronics, sporting goods, home products, home furniture, home improvement and women's clothing. Bain, in collaboration with Brandwatch, also found that while the proportion of negative and neutral social media comments about Amazon has increased over time, the share of positive comments has decreased.
"The gap that Amazon had as an advantage over other retailers is starting to close," said Monisha De La Rocha, a partner at Bain & Company.
WATCH NOW
VIDEO05:35
Bombas CEO David Heath on Cyber Monday: This is like our Super Bowl
For competing retailers, it's been important to identify what makes them unique. Cosmetics retailer Sephora, for example, is building a competitive advantage by discovering and investing in new brands. Outdoors chain REI has focused on providing customers with advice from experts on what products they should buy.
Retailers hoping to gain on Amazon also need to focus on getting more people into stores, De La Rocha said.
Nordstrom, for example, has a partnership with clothing subscription service Rent the Runway. Target, she added, has been able to put money into its stores — enhancing its customer-facing business — by reducing costs in other places, like moving online-order fulfillment to the stores.
There had been an idea that companies that started as e-commerce businesses have an advantage over retailers that are expanding their online offerings. But that's changing, Paul Trible, CEO and co-founder of Ledbury told CNBC on "Squawk on the Street" Monday morning. Ledbury is a luxury shirtmaker and menswear business that started as an e-commerce and has since opened 3 stores.
″[Customers] know how to find us, they know how to transact on our site, so I think businesses that are direct to consumer from the very beginning might have a little advantage, but that's going to close in," Trible said. "The question is going to be, at the end of the day, what product are you offering people?"
He added that discounts might get customers to the door but "you need to offer something new, something refreshing, something people get excited about to keep them coming back."
Although some retailers are behind Walmart and Target in terms of taking on Amazon, they're making progress. Nordstrom, Etsy, Best Buy and Macy's saw smaller increases in online shopping from last year. Kohl's remained about the same, while eBay and J.C. Penney's online customer spending declined.
"When you're king of the hill, you have got everyone looking to knock you off," said Marshal Cohen, chief industry advisor of The NPD Group. "Everyone is looking at Amazon saying, 'How do we play in this arena?'"
---